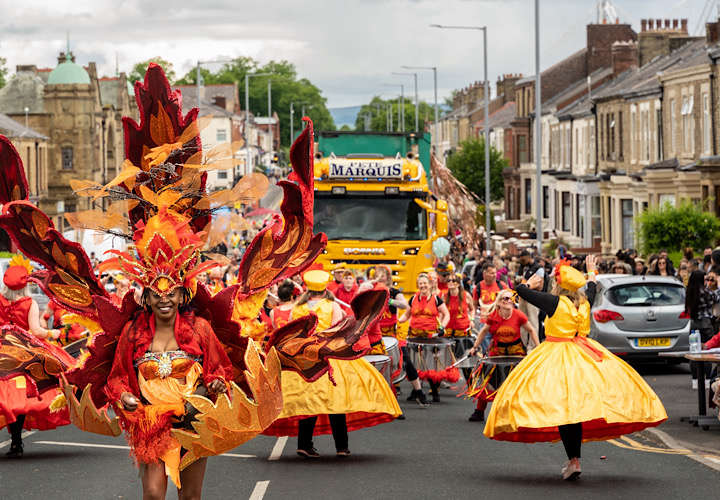 Preston carnival is the largest and longest-running cultural celebration in Preston outside of the Preston Guild, attracting tens of thousands of visitors each year. Preston comes alive in May as the city dances to the rhythms of the Caribbean.
Preston's annual Caribbean Carnival weekend will go ahead on Saturday 27th and Sunday 28th May 2023, bank holiday weekend for the first time in recent years.

On Saturday the 'One Park' Living Legends starts from midday performances from International reggae artists like The Twinkle Brothers who will be visiting Preston for the first time, the Saturday is a ticket only event with tickets costing This is a ticket only event and Tickets available from Skiddle.
Sunday will consist of a lively procession through the streets, setting off at 12 noon from Moor Park Ave this will be the 49th Caribbean Carnival in Preston and will include a vibrant, colourful procession through the City streets followed by a Caribbean themed family fun day on Moor Park. On carnival day, organisers ask that the public (anyone 12 years old and above, under 12s are free) make a donation of £2 to help cover health and safety costs.
Local and visiting dance troupes will display traditional large and small piece carnival costumes and dance their way from Moor Park down Deepdale Road, towards the city centre, left in to Meadow Street, St Paul's Road, Sedgewick Street and return to the park via North Road and the Garstang Road entrance.
Chairperson Tracy Harris tells us:
This Preston Caribbean Carnival is the biggest event in Preston and we expect over 15000 visitors over the bank holiday week celebrating the flamboyant, creative Caribbean culture within our city, it is a great day out for all the family.
The park events will include live stage performances, 2 soundsystem performances, Caribbean and international food stalls, craft stalls, bar facility and lots of children's activities, including creative making sessions, rides and inflatables.
For more information about the Preston Caribbean Carnival, visit www.prestoncarnival.co.uk and take a look at the amazing costumes from previous years.