About Central Radio
Central Radio North West is the local commercial radio station for Blackpool, Preston, Chorley (and coming soon to Blackburn and Burnley). We play a mix of music from the 1970s to today, as well as local news, sport and information. The station has a team of experienced presenters who are passionate about giving listeners the best possible experience.
Central Radio is committed to supporting local businesses and charities. The station regularly hosts events and fundraisers, and has raised thousands of pounds for good causes. Central Radio North West is a vibrant and exciting new radio station that is quickly becoming a popular choice for listeners in the North West of England. The station is committed to providing great music, local news and information, and a platform for local people to share their stories.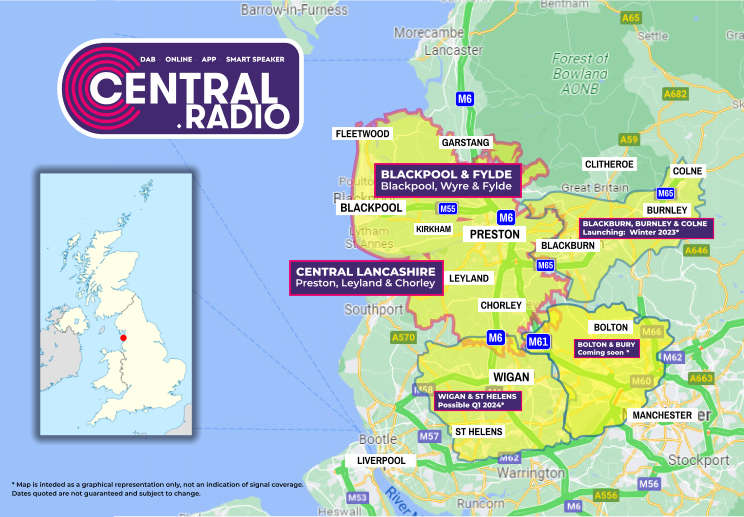 Central Radio North West is the broadcast name of Lancashire Community Radio Limited, and is licensed by Ofcom to operate in England as a commercial digital broadcaster (a Digital Sound Program Service license - license number DP104271BA/1). Central Radio North West is subject to broadcast regulations set out in legislation and as defined by Ofcom as the media regulator.
Contacting Central Radio North West
We always welcome the comments and feedback of our listeners. You can contact Central Radio North West by using the contact form found here.
If you have a complaint to make about Central Radio, in the first instance you should contact the station using the Contact Form found here, or you can email: complaints@central.radio
Your complaint will be dealt with in accordance to our complaints procedure and you can expect an initial response to your complaint within 5 days. If you are unhappy with the response you receive, you can also complain directly to our media regulator, Ofcom. Full contact details can be obtained at their website: www.ofcom.org.uk
Programming
Central Radio North West provides a local speech and music service for Blackpool and the surrounding towns and communities of Preston, Chorley and Wigan. The station features local information and a broad, varied and engaging mix of music from the 1970's to today. Content is aimed at people who live, work and study in our broadcast areas and our output is intended to both inform and entertain.
News
Central Radio broadcasts local news headlines on weekdays between 6am - 7pm, a national news service will be provided outside these hours and at weekend, which includes news summary from across the globe; on the hour, every hour (with limited exceptions) and is a service provided to Central Radio by 'Radio News Hub'. The audio and journalistic content of these bulletins remains the sole responsibility of Radio News Hub and Central Radio does not hold influence or control in the nature or context of the broadcast.
How to listen
Central Radio North West can be heard on DAB+ radio in Blackpool, Fleetwood, Lytham, Wyre and Fylde. You can ask your smart speak to "Play Central Radio North West" or download our free mobile apps for Apple and Android devices. Finally, you can click 'Listen Live' on the front page of our website www.central.radio.